An easy to use CAD with powerful tools for leather goods
FORWARD IN EVERYTHING
It is a very advanced and parametric software to design the model. Whether you choose to work traditionally or from the base, all entities and pieces are linked to each other making any change simple, quick and immediate, at any time.
Simplicity, speed
and immediacy
Import
Input the basic elements of the model by digitizer, importing from images or from files in different formats: DXF, PDF, HPGL, etc.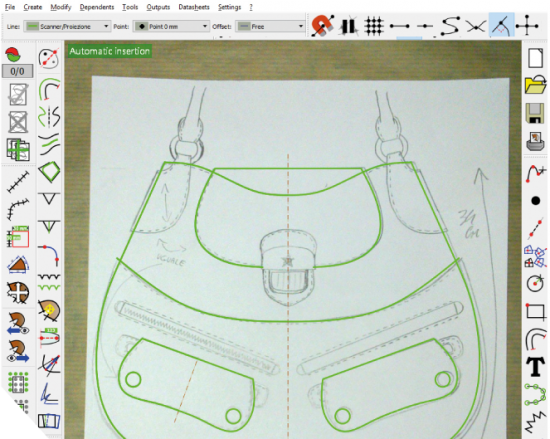 Working from base
Taking full advantage of the parametricity of the program, you can work from the base, drawing only the basic lines of the model and going to build on them all the pieces through the addition of: Axis, Mirrored entities, Stencils, Notches, Fillets and Margins: folding, underlay, trimming, sewing, etc. The great advantages of this approach are: a rapid construction, as the basic entities are drawn only once; the ease of checking the model, as the pieces are created exactly where they are assembled; changes in real time, as the project's elements are totally linked.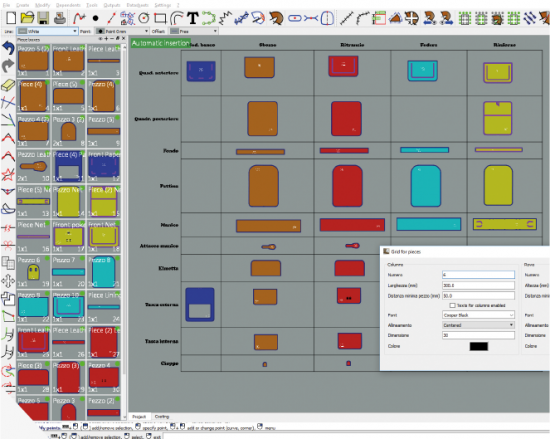 Working in a traditional way
Drawing pieces one by one, each separate from the others and boxed in a customizable Grid. In addition, Cleopatra maintains lines and entities of different pieces linked together in order to make the joint changes immediate.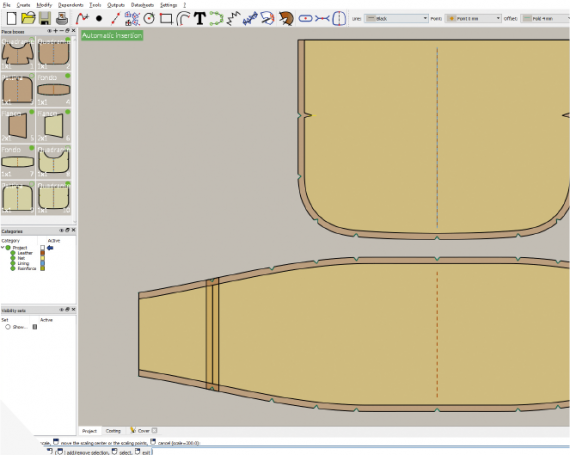 Standard, specific and special functions
In addition to the creation of Eyelet, Cuts for zip, Texts and geometric entities such as: Parallels, Midlines, Circles, Ellipses and Rectangles, Cleopatra provides the user with other very powerful, specific and guided functions for parametric creation of the Front face or Side/Border, and connected to the Front face the reference notches for the seam; Pinces, defined in a parametric way and also connected to the Front face; Pleats, which once defined, allow the unfolding of a boundary to obtain the open piece, connected to outline of the closed piece.
Export
Output can be in four formats: CMZ, the Comelz proprietary format for peripherals, cutting and punching machines, DXF and HPGL for other machines, PDF for print.
Datasheet
Cleopatra includes the ST module, a tool that allows you to create or import databases of Materials, Accessories, Processing and to generate a complete set of datasheets: Envelope, consumption and processing sheets, quality area, bill of materials exportable in PDF, JSON and CSV. All the technical sheets can be saved in PDF and printed and the layout can be customized.